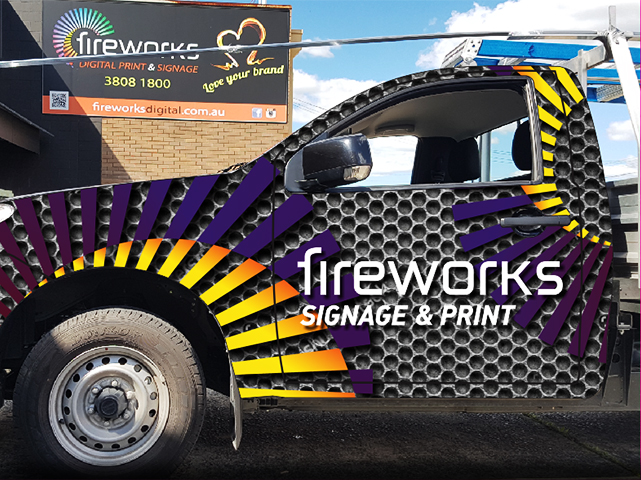 The application of vinyl car wraps to vehicles (or vehicle wrapping) is becoming significantly popular among both businesses and private consumers as a means of branding, customizing or refreshing your vehicle's look.
So why are people opting for this option over the traditional repaint? Here are our reasons why:
You could be looking at big money for a high-end paint job. At Fireworks Digital, we can provide your vehicle with a high-end vinyl wrap at the fraction of the cost. Depending on your budget, you could spend minimal costs on a half wrap or only apply small decals on the vehicle in certain areas i.e. back window one-way vision or driver's door etc. Even if you wanted to opt for a full wrap service and cover most of the vehicle surface, it would still most likely be cheaper than a paint job.
Unlike a repaint, where you can be waiting weeks to use your car again, a vehicle wrap with Fireworks Digital is quick and easy. Our expert team can assist you from design, print and application with a super-fast turnaround time to suit you and your business.
Design something entirely yours!
Completely customisable and personalised to what you want. Choose your colour, your finish and any design or pattern you desire. With all this flexibility, you won't see anyone else with your tailored design and your vehicle will feature a wrap that is one of a kind! Vinyl wraps are idea for business owners
More freedom and flexibility
You can choose any hi-res image to print.
You can choose between either a gloss or a matte finish.
You can opt for a full car wrap or only apply vinyl in sections.
You can also continue your graphic / print across onto most windows with one-way vision.
Not only can you have whatever you like but if you want to change it over, it's as easy as removing the graphic and applying a new. Or if you would like to revert to your original paint, you have the easy option to do so.
Maintain the original manufacturers paint
Temporarily change and customize your vehicles look while still protecting the original paint. Keeping the original manufacturers paint will help you maintain the value of your vehicle when you go to sell. Wrapping your vehicle gives you the freedom to update your look without it costing you value off the car.
If you want any more information on Why to Vinyl Wrap: vehicle wraps vs. repainting or on any Firework product, please contact our team on 07 3808 1800 or by filling our contact form.
The Fireworks team are more than happy to assist you with any questions and provide any design ideas. Let's get social! Stay up to date with the latest news and products by following us on Facebook and Instagram.
Is there a Fireworks product you'd like to hear more about? Let us know at admin@fireworksdigital.com.au