Get your Wobblers retailers!
Available at Fireworks Digital – Printing and Signage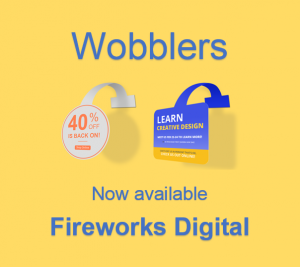 A great idea for retailers to promote upcoming sales. hot products and special through out the stores! These fun little wobblers can be great at grabbing the eye and bringing direct attention to particular products. With the option to fully customize your wobblers with your own graphics and design, we can produce as little or as many as you require.
Wobblers are an extremely cost effective way of companies running promotions on products across multiple stores and locations without spending $$$ on large signage. A great way to incorporate corporate branding and keeping things uniform at a small fee. When it's all about the details, these wobblers are a great way to keep things uniform and familiar from store to store.
You could also print genetic discount figures such as 10% off, up to 50% off, "buy two get one free" – to name a few and then use these wobblers to promote your sale on the product / stands.
Talk to our team today regarding Wobblers and how we can assist you in effective;y using corporate branding to promote and establish your brand in the eye of the consumer.
Use the sale code: WOBBLERBLOG15 for a discount on your next order with us!
Email or call us today!
– Your signage and large format printing specialists!